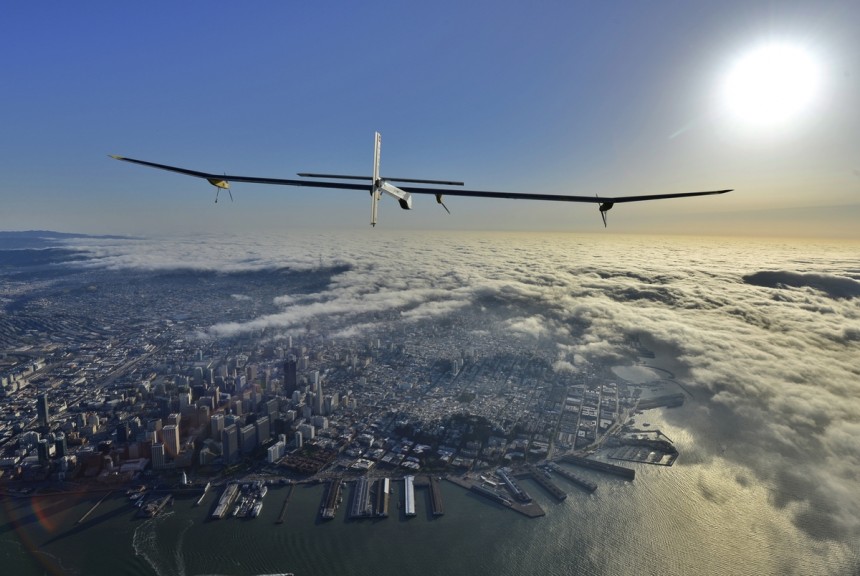 The Solar Impulse in its first leg of the Across America journey, travels from San Francisco to Phoenix.[/caption]
The Summer Solstice has come and gone, and the month of June flew by! Here's some solar energy links and news stories we wouldn't want you to miss:
1. First off, it's summer and that means vacations are on everybody's mind. But what do you do when you're on the shore and your phone is reaching the end of its charge? NIVEA Brasil has the answer with this brilliant, solar-powered print ad.
2. Speaking of the ocean, have you heard about this solar ocean traveler? The world's largest solar boat – a catamaran named Turanor – reached New York City recently, after roaming the world for the last several years.
3. Businessweek has the scoop on a report released by the World Wildlife Fund, highlighting the massive savings companies can realize through carbon-reduction initiatives.
4. The world's largest coal company – Coal India – makes the decision to turn to solar power to reduce their own energy bills at mining areas and staff colonies.
5. Solar Impulse, the solar plane, landed in Washington D.C. after first taking off in San Francisco. A modern-day marvel, the plane has been lauded and documented. A few of our favorite headlines and stories:
1. CBS: Smithsonian to display solar-powered plane
2. Huffington Post: Ernest Moniz (U.S. Secretary of Energy) Praises Solar Impulse Plane
3. The Week: What the Solar Impulse's Under the Radar Flight Says About the Future of Solar Energy
4. Washington Post: Why you should care about Solar Impulse and renewable energy's long, long journey
6. One of solar's most exciting aspects is the continual innovation and development of technology. In a guest post for major blog Mashable, Kevin Bullis of MIT Technology Review explores What Tech is Next for the Solar Industry.
7. Just as it's obnoxious to get the low-battery message at the beach, New Yorkers – and other city-dwellers – don't like to see the red light flash while out and about, and miles from home. Enter AT&T's 25 solar-powered charging stations, installed in New York and available for public use.
8. Solar's potential for both grid-tied and off-grid use is one of its strong suits. It's also one of the reasons Why Coke is Bringing Solar Power to Rural Kenya, in the form of solar-powered vending machines.
9. So the way solar energy works can get a bit technical, but we always find it interesting and there a number of ways to learn about it. So if you're a visual learner or even just a fan of TED talks in general, check out this one on How Solar Works by Dave Strenski.
10. He's one of the world's most successful investors, and now, he's making moves into solar power. What Does Warren Buffett See in Solar?
What was your favorite solar story in June?