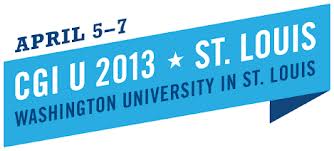 The 2013 Clinton Global Initiative University weekend is being hosted in St. Louis April 5-7 at Washington University.[/caption]
In 2005, President Bill Clinton established the Clinton Global Initiative (CGI) to convene global leaders to create and implement innovative solutions to the world's most pressing challenges. Their mission is simple: to turn ideas into action.
Then, in 2007, President Clinton took his initiative one step further – to the next generation – by establishing Clinton Global Initiative University (CGI U). Each year, CGI U hosts a weekend of meetings, workshops, and presentations that bring together students, youth organizations, topic experts, dignitaries and civically engaged celebrities.
This year's CGI U meeting is being hosted right in our backyard: at Washington University in St. Louis, April 5 – 7,  and more than 1,000 students representing more than 300 universities and 75 countries are expected to attend. Participants will focus on CGI U's five focus areas: Education, Environment and Climate Change, Peace and Human Rights, Poverty Alleviation, and Public Health.
And, true to CGI's mission, in order to attend, students must have developed a Commitment to Action, "a specific plan of action that addresses a pressing challenge on campus, in the community, or around the world." These commitments include anything from a plan to manufacture wheelchairs for developing countries to establishing bike share programs on college campuses; developing and creating free vision clinics to youth mentorship programs through chess.
Students will attend sessions such as "Getting off the Ground: Stories of Starting Up," moderated by President Clinton, with remarks from Clinton Foundation Board Member Chelsea Clinton and Mark S. Wrighton, Chancellor of Wash U. And then there are participants like Jack Dorsey – co-founder of Square and Twitter – William Kamkwanba, an Inventor and Writer, and Zainab Salbi, Writer and Producer and Founder of Women for Women International. At these plenary sessions, budding entrepreneurs will hear true tales of startups – the good, the bad, and the setbacks – and learn from the key lessons the seasoned entrepreneurs have to share.
And what better way for these bright young thinkers and doers to learn, than by example and close workshopping with their peers and predecessors?
The weekend will close out with a service day at St. Louis's Gateway STEM School, a part of the St. Louis Public School District.
St. Louis's Gateway STEM School first opened in 1956 as John O'Fallon Technical High School, named after the St. Louis man who established what is now Washington University in St. Louis. Inquiry, innovation, creativity and exploration are encouraged throughout the school, which integrates a strong academic curriculum emphasizing mathematics and science with career preparation in highly technical fields.
So it's fitting that Gateway will host the inquisitive, innovative and creative group of university students who are part of President Clinton's Global Initiative. Following remarks by President Clinton, Chelsea Clinton, and Gateway Principal Beth Bender, the group will spend the day working on a number of restorative projects around the school and grounds – painting, carpeting, garden construction, storage clean-out, and more. Each project will incorporate sustainability products and practices – something we know a bit about.
In fact, Brightergy will be there to provide hands-on information about the school's new 25 kilowatt solar-energy system, which we have donated in-kind to enable the school's clean-energy production. The system will also be a source of integrated education for Gateway students, emphasizing renewable energy and incorporating data from the school's own system.
In that, we hope that we're able to play even a small part in inspiring the next generation of thinkers and movers.
If you're interested in learning more about CGI and CGI U, check out their website at www.cgiu.org.
If you're interested in following along with the participants and joining the conversation this weekend, follow @CGIU and @ClintonGlobal on Twitter. The event hashtag is #CGIU. We'll also be live-tweeting from Sunday's event, so join us on Twitter @Brightergy.
CGI U's Facebook page will also be posting meeting news and highlights.