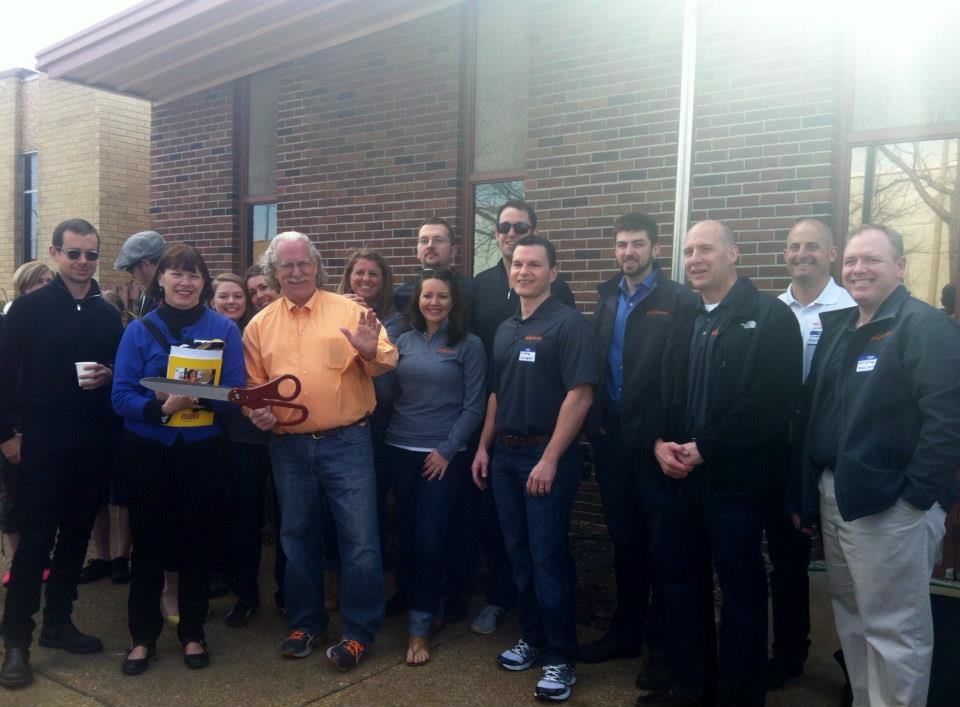 The Brightergy team with Tim, Marcia and Jack Dorsey at MA Tech Services' Solar Ribbon Cutting.[/caption]
If you follow Tim and Marcia Dorsey on Twitter (and you should: @Tim535353 and @marciadorsey), you've noticed that they enjoy telling their followers—and the Twitterverse—"good morning" and "goodnight." In particular, they're fond of sharing sunrise photos of their Mississippi River view from their neighborhood, Soulard, in the heart of downtown St. Louis.
So it was fitting that when they greeted the Brightergy team as we arrived in Soulard Saturday morning, the sun was shining brightly, as was Tim: from the smile on his face to the orange laces on his shoes, he was a perfect representative of the sunny spotlight on St. Louis that weekend.
Together Tim and Marcia own MA Tech Services, selling mass spectrometers to medical and industrial companies. A mass spectrometer, Tim will tell you, analyzes chemical gases, and though MA Tech Services doesn't specialize in this particular type of spectrometer, the technology is also used to analyze silicon in the making of solar panels, a key part of the panel manufacturing process.
"We had an idea and we made it happen."
Tim is an engineer, and by nature, a curious mind—as is his wife, Marcia. He's also the proud father of Jack Dorsey, the St. Louis boy who made it big as the co-founder of social media platform Twitter, and now the co-founder and CEO of mobile payment company Square.
So when we worked with Tim to install a 25-kilowatt solar-energy system on the roof of MA Tech Services, he wanted to make sure that the production data was accessible to anyone who wanted to know. The entire Dorsey family has wholeheartedly adopted Twitter, why not their solar array?
Thus, @1920Solar was born—named for MA Tech Services's address, also in Soulard, at 1920 S. Broadway.
But Tim wanted to take it a step further—he wanted to make sure that anyone walking by his building would know a) that it's powered—nearly 100%—by clean energy and b) how much energy its producing at that time. So he created a "Solar Pole," as he calls it, a curbside iPad monitor that's theft-proof and also solar-powered.
So when I arrived Saturday morning and met him in person for the first time (we were hosting a ribbon cutting and all-around Solar Celebration with the Dorseys) he said, "Well, have you seen it? Come see," and when I asked how he made it he said, "We had an idea and we made it happen." Simple as that.
And as last weekend's events unfolded, that simple statement emerged in my mind as the very inspiring theme of everyone we would come to meet and interact with.
From his mother's coffee shop to his father's business ventures, entrepreneurship was born into Jack Dorsey. Familial support seems ever present. In Fast Company's 2012 article on Dorsey and Square, both Tim and Jack reveal the story of how they built a mass spectrometer out of Legos when Jack was just 11. And—in the same article—Tim talks about when Jack taught himself programming to make a map of St. Louis, and fed it with dispatch data, Tim said, "We thought it was a little strange, but also really great."
In the end though, what Jack has really done is not only have ideas and make them happen, but also enabled others to do the same—something that made him a perfect fit as a panelist for the weekend's Clinton Global Initiative University, hosted at Washington University in St. Louis.
Clinton Global Initiative: Turning Ideas Into Action
President Clinton founded the Clinton Global Initiative (CGI) in 2005 to convene global leaders to create and implement innovative solutions to the world's most pressing challenges. He has a simple mission: to turn ideas into action.
Clinton Global Initiative University (CGIU) extends that mission to university students through a weekend of workshops, presentations, and plenary sessions that bring together students, topic experts, dignitaries and civically engaged celebrities.
Arriving in St. Louis on Thursday evening, Jack Dorsey participated in a plenary session on Friday entitled, "Getting Off the Ground: Stories of Starting Up." The session was moderated by President Clinton and panelists shared with budding student entrepreneurs their stories of failure and success and the kinds of key lessons learned only by experience and setbacks.
It's inspiring to see world leaders spending their weekends helping the next generation of bright thinkers make their own success—another theme that permeated the weekend. "The first reason we installed solar energy," said Tim Dorsey, "was for our grandchildren."
And on Sunday, CGIU took over the urban campus of Gateway STEM School, a St. Louis Magnet school that integrates a strong academic curriculum emphasizing mathematics and science with career preparation in highly technical fields.  As President Clinton put it, "Schools like Gateway are giving people a chance to climb up the ladder in this country…they're [Gateway students] being given a chance to succeed in a world where the doors have been shut to many of their parents."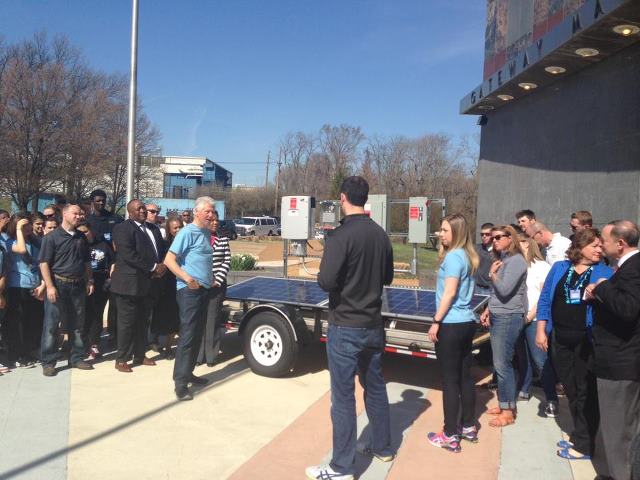 President Clinton and his daughter Chelsea Clinton speak with Brightergy CEO Adam Blake about the importance of solar energy in schools during the CGIU 2013 Service Day.[/caption]
Brightergy had the privilege to make an in-kind donation to Gateway STEM of a 25 kilowatt solar-energy system, which includes the BrighterSchools™ program so that the students there will be able to use the production data from the system to learn about the science of energy and clean, renewable energy. They'll also be learning about the business aspect of solar energy and the economics of the industry. And we like to think that in this way, we'll be able to inspire a new generation of clean tech workers.
What's certain is that President and Chelsea Clinton are carrying on their mission with passion and resolve. Chelsea—who holds a Finance degree from Stanford—led a plenary session to discuss the importance of gender equality in STEM fields.  And President Clinton, who was the keynote speaker at Solar Power International (SPI) last October and whose Clinton Foundation has made a serious commitment to provide solar energy to Haitians was clearly passionate about clean energy, and improving energy accessibility and equality for all humans. So passionate that he took the time to speak with us for half an hour about the importance of solar energy in schools.
I know that it's easy to say, "I can't" or let a failure—even just the fear of failure—hold you back. But for me, this weekend was a motivating reminder that it's also just as easy to say, "I can." Have an idea? Make it happen. The failures that happen along the way will serve as lessons for your success.
It was an incredible weekend in St. Louis.
And tell us: what was an idea that you had that you decided to make it happen? Your business, your non-profit, a school project, a community project? Small and big, every idea matters.