A young Terry Seals.[/caption]
1. What's your position with Brightergy? How long have you been working here?
My position in Brightergy is Solar Technician, and I've worked here about sixteen months. Prior to employment here I worked for a contractor who helped Brightergy with manpower, so I had a little history before being picked up full time – thanks to recommendations from Jason Mendenhall and Shane Griffin.
2. Where are you from/where did you grow up? What's your background (educational/work)?
I'm a hometown boy! Grew up in midtown KCMO, went to Troost Elementary, Center Middle, Westport High, State Fair Community College, and I'm completing my final year of apprenticeship with American Builders and Contractors (ABC).
3. Why solar? What first got you interested in renewable energy?
Well, honestly, my door wasn't being beat down by job offers so when the opportunity arose to align myself on the front end of such a progressive trend, it was a no brainer. I got my first taste of renewable energy when my dad sat me down to watch a video on the Hoover Dam. I was first blown away with the size of the dam, but mostly intrigued that flowing water was used in creating electricity. It generates power for California, Nevada and Arizona. It still amazes me!
4. What is something people might not know about your job and/or what you do?
As technicians we typically receive a set of blueprints to get us lined up with the design and engineering team. Most blueprints are pretty accurate, but occasionally we in the field (technicians) have to think on our toes – problem solve – due to the difference between the site and the prints. For example, prints may say the electrical room is located in the basement but once on the site, it was found on the first floor. Or, prints might specify the roof rafters are 18 inches center to center, but once there they are found to be 16 inches.
5. How do you define sustainability?
I think our PR Manager – Rachel Simmons's – words encapsulate my thoughts on sustainability:
"Conscious living; acting in a way that's both respectful and grateful for the world we're blessed to live in. We gain so much from our environment, and I think it's our duty to live responsibly and to give back."
6. When you're not working, how do you enjoy spending your free time?
I'm most fulfilled in my free time when I'm with my daughter, nieces and nephews. Watching their development, listening and playing with them – but mostly encouraging and informing them.
7. What's something your coworkers don't know about you?
I'm the oldest of my parents' six kids – there are two sisters, three brothers, and me. Also, I'm recently engaged as of July 31.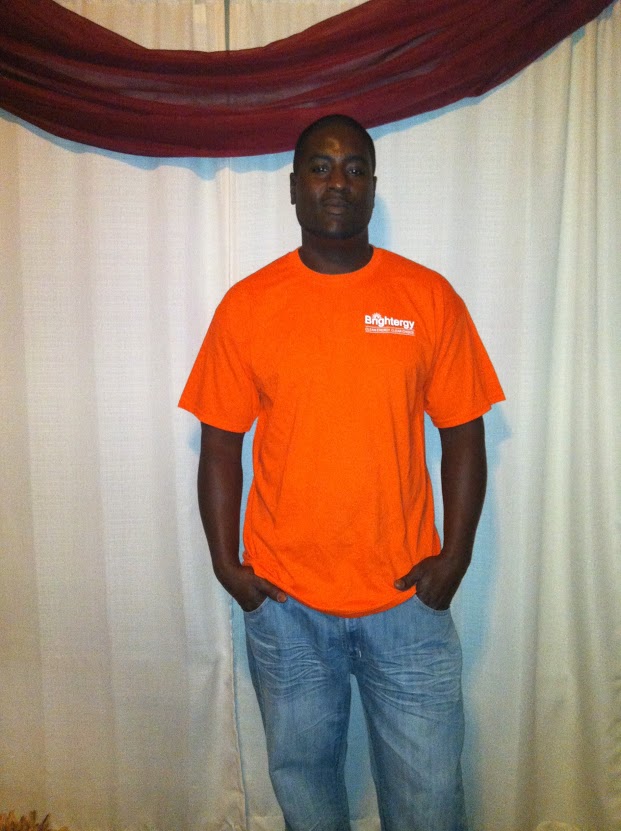 Solar Technician Terry Seals, in his Brightergy orange.[/caption]
8. What is your motto?
Never give up! And "I can't," is a choice.