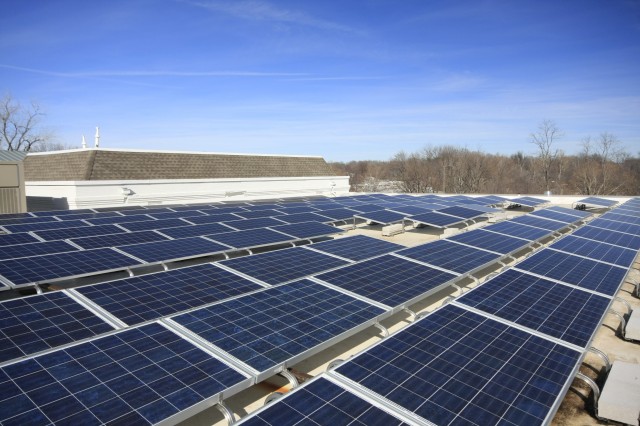 NEWS RELEASE
Black & Veatch Forms Alliance with Brightergy to Develop Solar Rooftop Systems
Companies teaming for Missouri projects with expansion planned into other U.S. regions
Kansas City, MO. (1 October 2013) – Black & Veatch and Brightergy have formed a strategic alliance to develop $100 million in solar energy projects over the next three years. Part of the alliance includes Black & Veatch installing solar photovoltaic (PV) commercial rooftop systems in the Kansas City Metro area. The venture also will extend its reach into other parts of the United States to address the growing demand for renewable energy.
Brightergy serves as the project developer and provides sales, marketing and financing resources. Black & Veatch applies engineering, procurement, construction (EPC) and consulting experience, allowing for a complete solution for clients. The venture will target commercial-scale PV solar rooftop projects generally ranging from 25 kilowatts to 2 megawatts (MW).
"A growing number of organizations seek new ways to manage energy costs and reduce their carbon footprint," said Adam Blake, Brightergy CEO. "Through our alliance we help organizations get the best of both worlds."
The U.S. solar market is in a period of rapid growth. According to the Solar Energy Industries Association, more than 4,400 MW of PV power will come online during 2013. This is in addition to 8,500 MW of installed solar electric capacity. The new resources equal enough power to serve more than 1.3 million average American homes.
"Our alliance with Brightergy allows Black & Veatch to further expand its portfolio of distributed generation services," said Dean Oskvig, President and CEO of Black & Veatch's energy business. "We will apply the experience gained in delivering solar PV projects both in North America and around the world."
###
Editor's Notes:
Black & Veatch has assisted owners in developing and building more than 3,000 megawatts of solar facilities.

Black & Veatch has provided engineering services for several PV solar projects including a 80-megawatt solar PV project in Canada, one of the largest in the world.

Brightergy has developed over 600 rooftop solar projects in the Midwest.
About Black & Veatch
Black & Veatch is an employee-owned, global leader in building Critical Human Infrastructure™ in Energy, Water, Telecommunications and Government Services (the kind of which may usually include communicating with government contracts lawyers). Since 1915, we have helped our clients improve the lives of people in over 100 countries through consulting, engineering, construction, operations and program management. Our revenues in 2012 were US$3.3 billion. Follow us on www.bv.com and in social media.
About Brightergy
Brightergy is a distributed generation energy company. We provide cheaper and cleaner energy through technologies like solar energy. Clients save money from day one, control future costs, and build a reputation as an organization making an impact. Our extensive experience includes hundreds of projects for clients ranging from Fortune 500 companies and utilities to non-profits and mid-sized businesses. Brightergy is headquartered in Kansas City, with additional offices in Boston, St. Louis, and regional coverage across all of Missouri. . .
Media Contact Information:
GEORGE MINTER, BLACK & VEATCH | +1 913-458-8001 P | +1 913-972-8811 M | MinterGA@bv.com |24-HOUR MEDIA HOTLINE | +1 866-496-9149
RACHEL SIMMONS, BRIGHTERGY | +1 816-866-0555 p | rachel.simmons@brightergy.com