1. What's your position with Brightergy? How long have you been working here?
Business Development Specialist; 3 months.
2. Where are you from/where did you grow up? What's your background (educational/work)?
Born and raised in Kansas City, mostly on the Kansas side. My family moved to Atlanta, GA right before I started high school. That's where I get my Southern charm and love of gangster rap, y'all. I came back for college and attended Rockhurst University. My family moved back as I was graduating, so it worked out well. Since school I have lived on the Missouri side, and currently live in Brookside. My work experience is in marketing and sales – mainly in the insurance, residential construction and remodeling industries.
3. Why solar? What first got you interested in renewable energy?
This job actually found me. I was very excited to hear about the opportunity as the industry I had been in for a few years was profitable, but not very fun to talk about. Explaining my positions to people usually ended with something along the lines of, "but I don't want to bore you…" or their eyes would be glossing over and I'd find myself changing the subject. Now I love it when people ask what I do. People want to hear about solar and renewable energy. It's also nice to not only believe in the job you are doing, but also that what you are doing is really making a difference.
4. What is something people might not know about your job and/or what you do?
Contrary to popular belief, when I'm not in the office I'm actually working! Our role in Business Development is pretty much the first half of the sales cycle. It's up to us to dig up leads and get the word out about Brightergy. Without a ton of advertising, it's all word of mouth and boots on the ground. We're the boots, and these boots were made for walking. We hustle, all day, every day. We have to be in front of people constantly.
5. How do you define sustainability?
We all know the definition, but how do we achieve it? I try to live by "cleaner than you found it." Is that sustainable? Yeah, it is.
6. When you're not working for Brightergy, what do you enjoy doing with your free time?
At the top of the list, I'd have to put outdoor activities: riding my bicycle, running, or tailgating/bbq'ing with friends (beers). I love going to concerts and sporting events. I'm a big Chiefs, KU, Royals, and Sporting fan. In that order. I'm fairly domestic as well. I like to cook and make a pretty mean omelette.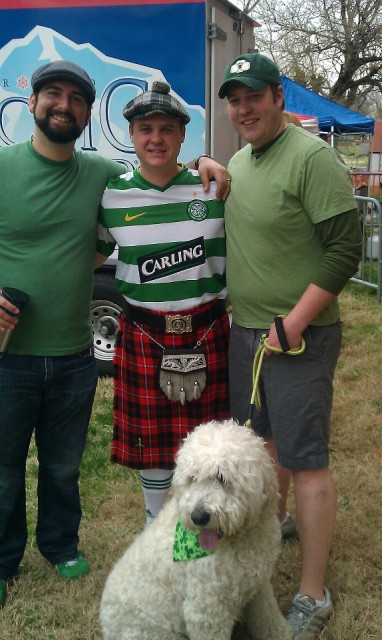 7. What's something your coworkers might not know about you?
I was a child model, but I got out around age 11. I wasn't about that lifestyle. I'm not a piece of meat. Plus I'm short and chubby. I'm also one of eight Eagle Scouts in my family, including cousins and uncles.
8. Which historical figure do you most identify with?
Mark Twain.