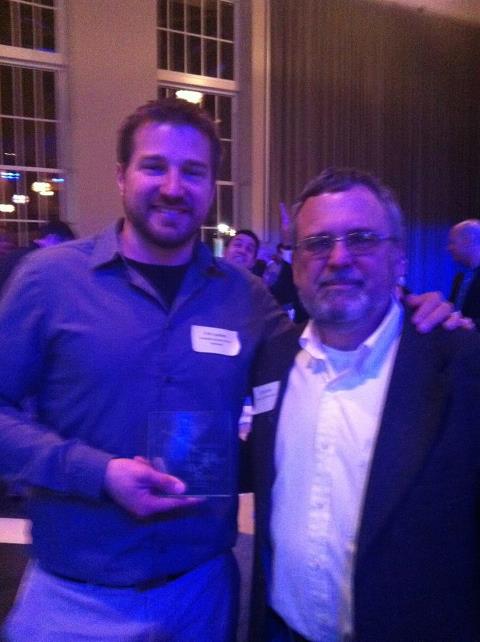 Erik Lueders – Parkway Schools Sustainability Manager – at the Growing Green Awards last week. Parkway took home the Award for Operational Excellence. Photo by Cindy Bambini[/caption]
by Julie Lewis-Farrelly
On Thursday March 28th, 2013 I was delighted to attend the St. Louis Regional Chamber's fifth annual 2013 Growing Green awards, the awards ceremony for those who had participated in the The St. Louis Green Business Challenge. The Green Business Challenge was founded to encourage companies to "promote sustainable business practices such as forming Green Teams, conserving energy and water, reducing waste, improving indoor air quality and providing clean transportation options." The eighty-four companies who competed had been asked to keep a scorecard to measure their sustainability efforts throughout the year and The St. Louis Green Challenge staff hosted free, local seminars to educate participants about the many ways they could create a more sustainable office environment. There were about one-hundred and fifty people in attendance for the awards ceremony, which was held at the Palladium in downtown Saint Louis.
I was seated at a table that was a terrific microcosm of the attendees: two representatives from The Parkway School District, myself and two of my colleagues from Brightergy,  A woman from Sigma Aldrich, and the Strategic Initiative Program Manager from Wells Fargo Saint Louis. Among those nominated for awards such as operational excellence, education and restoration were architects, municipalities and grocers. It was so encouraging – as both a community member and clean-energy industry employee – to be at an event that was celebrating the efforts of the leaders of commerce in a competition in which the goal was to conserve energy, resources and capital.
Parkway's Nomination
editor's note: St. Louis Business Development Specialist Cindy Bambini has worked tirelessly with the Parkway School District to ensure the success of their 825 kilowatt BrighterLease™ and to develop the BrighterSchools™ curriculum and program. She's also the leader of the Brightergy Green Team. Because Parkway Schools was the recipient of the 2012 Growing Green Operational Excellence Award, I thought we should share – in Cindy's words – just why Parkway so deserved this award:
"It is really, truly amazing what a group of people can accomplish when they are united in their goals. It's even greater when their accomplishments continue to add up year after year and continue to place that group of people at the top of the list as innovators in environmental protection and natural resource optimization. A USGBC Growing Green Awards winner in 2008, the Parkway School District outdid themselves in 2012 and is most deserving of a Growing Green Award in the category of Operational Excellence.
The District's measurable history and very public commitment to sustainable operational excellence has produced an outstanding year in environmentalism: in 2012, the District contracted the largest solar project in the state, enacted single stream recycling and composting programs that together topped 960 tons of materials diverted from landfills, oversaw a 1.2 million kilowatt hour reduction in electricity use, and developed a water filler program that logs the number of bottles of water that have been avoided since their installation.
It's incredible to watch this District model sustainability for all of us and what's even more terrific is that through these programs they are instilling habits in their students that will last a lifetime." – Cindy Bambini