Across America 2013: Preparing for takeoff in its 2nd leg of the Solar Impulse's journey cross-country is pilot Andre Borschberg. The solar plane landed in Dallas Fort Worth from Phoneix yesterday; its next leg will bring it to St. Louis, Missouri. Photo via Solar Impulse[/caption]
Well, not quite yet.
The Solar Impulse, on its second leg of its trip Across America, landed in Dallas, Texas yesterday, where it will remain for the next few weeks. But the next stop on its trip? Saint Louis, Missouri.
Around the World in a Solar Plane
The dream-made-reality of Swiss pilots Andre Borschberg and Bertrand Piccard, the Solar Impulse is a graceful, gliding plane covered in 12,000 solar cells that power four electric motors driving the plane's propellers. Its wings each are 208 feet across, and made of carbon-fiber materials. The Impulse weighs only 3,500 pounds—including the lithium batteries that store its solar power.
The solar powered airplane's cruising speed is approximately 40 mph, and in order to make full use of the daylight's solar power, each leg of its cross-country journey begins shortly before dawn and ends late at night.
The pilot pair has planned to fly from San Francisco to New York in legs: SFO -> PHX. PHX -> DFW. DFW -> STL. STL -> IAD (Washington Dulles). IAD -> JFK. And that's just the beginning. Their Across America journey is the predecessor for a bigger, worldwide trip.
The Saint Louis Connection: a History of Aviation 'Firsts'
In a special section on the solar plane's website, there's a message from the pilots themselves:
With each of their great 'firsts', the adventures of the last century constantly pushed back the limits of the impossible. Today, the drive to make new discoveries must go on. By writing the next pages in aviation history with solar energy, and voyaging around the world without food or pollution, Solar Impulse's ambition is for the world of exploration and innovation to contribute to the cause of renewable energies, to demonstrate the importance of clean technologies for sustainable development, and to place dreams and emotions back in the heart of scientific adventure.
It can be remarkably easy to forget that just over 100 years ago, in 1903, Orville and Wilbur Wright first took flight, to the open-hearted wonder of the entire country and world.
And then 24 years later, at 7:52 a.m., May 20, 1927, Charles Lindbergh cleared the New York runway in the 'Spirit of St. Louis'; 33 1/2 hours later, Lindbergh landed at Le Bourget Field, near Paris, having completed the 3,600 miles to become the first pilot to finish a non-stop transatlantic flight.
The idea for the history-making flight began in 1919, when New York City hotel owner Raymond Orteig offered $25,000 to the first aviator to fly nonstop from New York to Paris. When eight years later, the feat was still unaccomplished, Lindbergh decided that he could make the flight, he just needed the right airplane.
He convinced nine St. Louis businessman to finance the cost of the plane, built by Ryan Aeronautical Company of San Diego, and designed in part by Lindbergh himself. And after Lindbergh's first triumphant, successful transatlantic flight, multimillionaire Harry Guggenheim sponsored a cross-country tour of America. Lindbergh and the 'Spirit of St. Louis' touched down in 49 states, traveled to 92 cities, and rode 1,290 miles of sky.
The life of an aviator seemed to me ideal. It involved skill. It brought adventure. It made use of the latest developments of science…There were times in an aeroplane when it seemed I had escaped mortality to look down on earth like a God. – Charles A. Lindbergh, 1927
Lindbergh also gave 147 speeches during this tour, and was seen by millions of people, lending validity to the new means of travel. "Airmail usage exploded overnight as a result," Richard P. Hallion, historian for the Air Force, told charleslindbergh.com.
In an age now where travel by aircraft has lost some of its luster; with bag check limits, long security lines, and general malaise, the closest many of us can get to that feeling of wonder might be in remembering our own first flights.
If you can close your eyes and think back to that moment, no matter how young or old, you might recall the moment the attendant pinned on your first wings, the gold and shiny plastic ringing with importance on your chest. Or remember noses and hands, pressed against cold airport windows, watching your airplane arrive, the wheels slow to a stop, the people unload, the luggage packed on board, the call from the airline attendants, until finally—finally—it was your turn to ride.
But I think that out of all of those moments, what flying was really about, was peering out those half-moon windows into the fleeting clouds.
It was a moment that, in the words of the Solar Impulse creators, profoundly changed our perception of the impossible.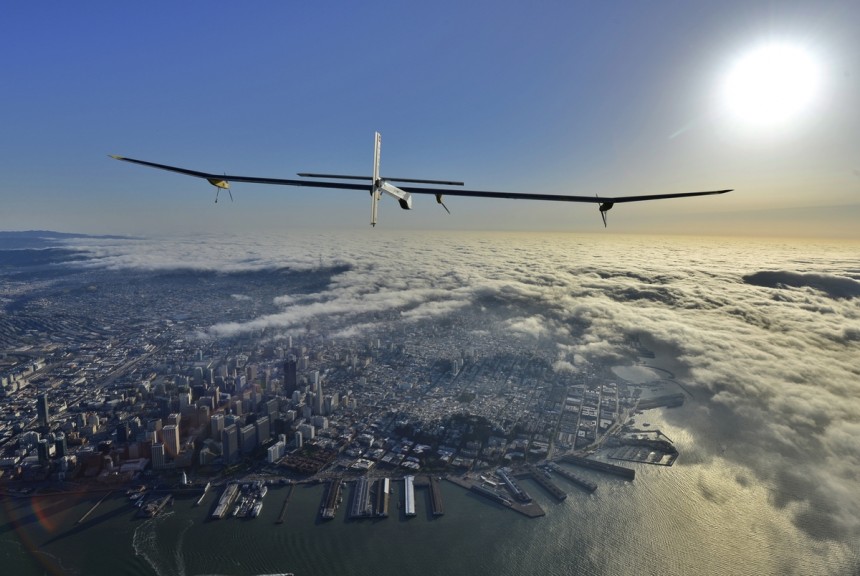 The Solar Impulse in its first leg of the Across America journey, travels from San Francisco to Phoenix. Photo via Solar Impulse.[/caption]
It's difficult not to be amazed by this gliding, solar-powered airplane. Lindbergh's own plane was "heavily laden with fuel." Piccard and Borschberg are continuing the aviation quest, flying cross-country in a plane without fuel or pollution. It's a journey that Lindbergh, a conservationist, would be proud of.
As they say on their website, "the aim of Bertrand Piccard and Andre Borschberg is not to revolutionize the aviation industry—it would be stupid and pretentious to even attempt this—but instead use the power of this airborne symbol to help change people's minds about renewable energies…The solar airplane simply demonstrates that 'less can be more.'"
Traveling Along with the Solar Impulse
At Lambert International Airport, the Solar Impulse will be housed during its St. Louis stay in one of the large hangars, just across the runway from the main terminal. It will be available for public viewing; details will likely be announced as it begins its journey from Dallas Fort-Worth.
True to its own modernity, the Solar Impulse's journey can be followed in a variety of ways online; most notably, on it's website—which, during each leg of the journey,  features footage of the Impulse Across America, live-tweets, a view of the pilot's dashboard and flight map. You can read the plane's solar generator power, its battery status, and its engine power as it flies.
The rest of the site is rich with content as well. Watch video episodes showing how the solar plane's components were conceptualized, designed, built, and analyzed. Don't miss reading about how Andre Borschberg prepares for flight, or about Bertrand Piccard's incredible family legacy.
See photos of each leg of the Across America trip, of Mission Control, and the plane's flight past the Golden Gate Bridge.

Does the Solar Impulse capture your sense of wonder and adventure? Do you plan to visit it at Lambert during it's time in Missouri?