4 Ways to Think About Yoga and Meditation as Energy Solutions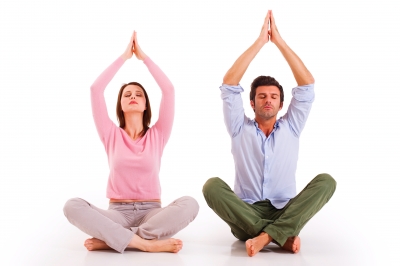 Image courtesy of Ambro / FreeDigitalPhotos.net[/caption]
The first time I tried yoga, I didn't love it. I'm not even sure I liked it. It was in college, the class was for a required gym credit, and the atmosphere was soporific: a darkened gym room heavy with humidity and light on focus, strategy, and flow. Contrary to any cliches, a quality yoga practice requires great mental focus and energy.
Then, a close friend from the UK broke her back in a horseback riding accident and as she healed, I watched her take up a daily bikram yoga practice. The physical and mental benefits were clear to her and equally apparent to me.
Honestly though, my friend went through a really tough time after her accident. Not only did she have to deal with the physical pain of breaking her back (meaning that she was unable to work – she had to look at getting individual critical illness insurance to help her get through that period), but she also became very anxious, stressed, and depressed afterward as she could not get back on a horse for several months.
That being said, my friend is a big believer in natural remedies, so alongside yoga, she decided to use Blessed CBD oil. In case you were not already aware, there is a lot of anecdotal evidence to suggest that products containing CBD can help with any inflammation after an accident.
Moreover, she also told me that the CBD oil that she used helped her to relax and unwind and that this made managing her mental health a little bit easier. Of course, cannabis products can be used in many ways. In fact, there are a range of vaporizers made available in the market for those people who like vaping cannabis instead of using the oil. I suppose what I am trying to say is that there are so many fantastic treatments and natural products out there that if you are struggling with any physical pain after an accident it is crucial that you do as much research as possible.
Accordingly, as always, it is crucial that you speak to a doctor before trying any natural products as not everything is suitable for everyone.
As for me though, five years later, just like my friend, yoga is an essential part of my life. I love the marriage of mental and physical focus as a form of active meditation. My favorite class takes place weekly on the lawn of the Nelson-Atkins Museum here in Kansas City. We enter each practice with an intention – an area of focus for our minds: strength, clarity, grace under pressure, and so on. Often it is something we struggle with or wish to improve upon. I am actually looking into yoga teacher training online yoga alliance as I would love to run my own classes and know more about the theory behind it.
Active Benefits
The key to this practice is to carry your intention through to your physical practice: the yoga poses themselves. It's one of my favorite things about active meditation: the duality of mind and body working together. When you find tension in a pose, you stretch and lean into it, using your breathing as control. Pause, rest if you must, but whatever you do, don't let it stop you. By conquering this physical challenge while your mind holds its focus on your intention, you discover how to lean into and conquer the struggles of your mind as well – not by fighting, but by perservering and allowing resistance – even failure – to happen. By doing this, we learn control and we learn to conquer that negative energy that tends to arise in stressful situations.
Business Benefits
It should be apparent why, then, meditation can be so beneficial in business. Aside from the many direct health benefits of yoga and meditation, studies have increasingly found that regular meditation can lead to reduced costs of staff absenteeism, improved cognitive function – including better concentration, memory, learning ability and creativity – and improved productivity. Considering the remarkable force and impact energy, in its many forms, has on everything that we do, it's no wonder that a practice that enables you to better control your own energy is beneficial to the work that you do.
In fact, a recent Harvard Medical School study suggested that "meditation practice can promote cortical plasticity in adults in areas important for cognitive and emotional processing and well-being," said Sara Lazar, psychologist. Study participants practiced insight meditation – the controlling of random thoughts; as Lazar explains it, "you can drive yourself crazy with unproductive 'what if' worry…If, instead, you focus on the present moment, on what needs to be done and what is happening right now, then much of the feeling of stress goes away. Feelings become obstructive and more motivational."
So you see, over time, I've come to think of yoga practice as energy management. As promised, here are four reasons why:
1. Both yoga and energy management begin with awareness.
In the vinyasa flow class I attend, we begin and end each yoga practice with the insight meditation Lazar studied – taking note of our thoughts and the movement of the world around us, but remaining unattached. In doing this, we develop an awareness of all that goes on in our heads – both substantial and otherwise.
Likewise, the first step in energy management is awareness of your energy consumption. Some of you may be acutely aware of your energy consumption – and what it's costing you; others, less so or not at all. But by tuning into your energy needs as a controllable operational cost, you enable yourself to accomplish the next step.
2. Identifying areas for improvement, projects to begin with, and taking targeted action.
Think of this step as identifying your intention – your objective – and your areas of tension. These are also your opportunities to save energy: we waste a great deal of energy on what amounts to no more than mental chatter. By identifying and separating the chatter from the substance, we can then spend our energy on more noble pursuits.
To discover energy management solutions, you must start with your problems. By starting with your problems, you not only identify areas for improvement, you also discover where energy is being wasted, and where it can be re-directed: separating the chatter from the substance.
3. Each is achievable through simple changes in habits.
Charles Duhigg wrote a terrific book examining just how simple – or complex – our habits are, identifying how different behaviors can change our routines. Yoga can be practiced anywhere with 10 square feet of free surface; meditation, requires even less space. And energy savings steps can begin small – printing double-sided, utilizing available daylight – turning into daily habits, which in turn…
4. Enable progress through build-able actions.
Everybody starts their first yoga practice at a different level. Some are more naturally flexible than others, some are already practiced in mindfulness exercises, some are first-timers. Just the same, each building is at a different efficiency level than the next – often varying within the same ownership. But each step and amount of progress is equally build-able – there is always room for improvement in both the art of saving energy and in mindfulness training – and there is always an apparent level of success.
Have any other ways you think yoga is akin to energy management? Be sure to comment.