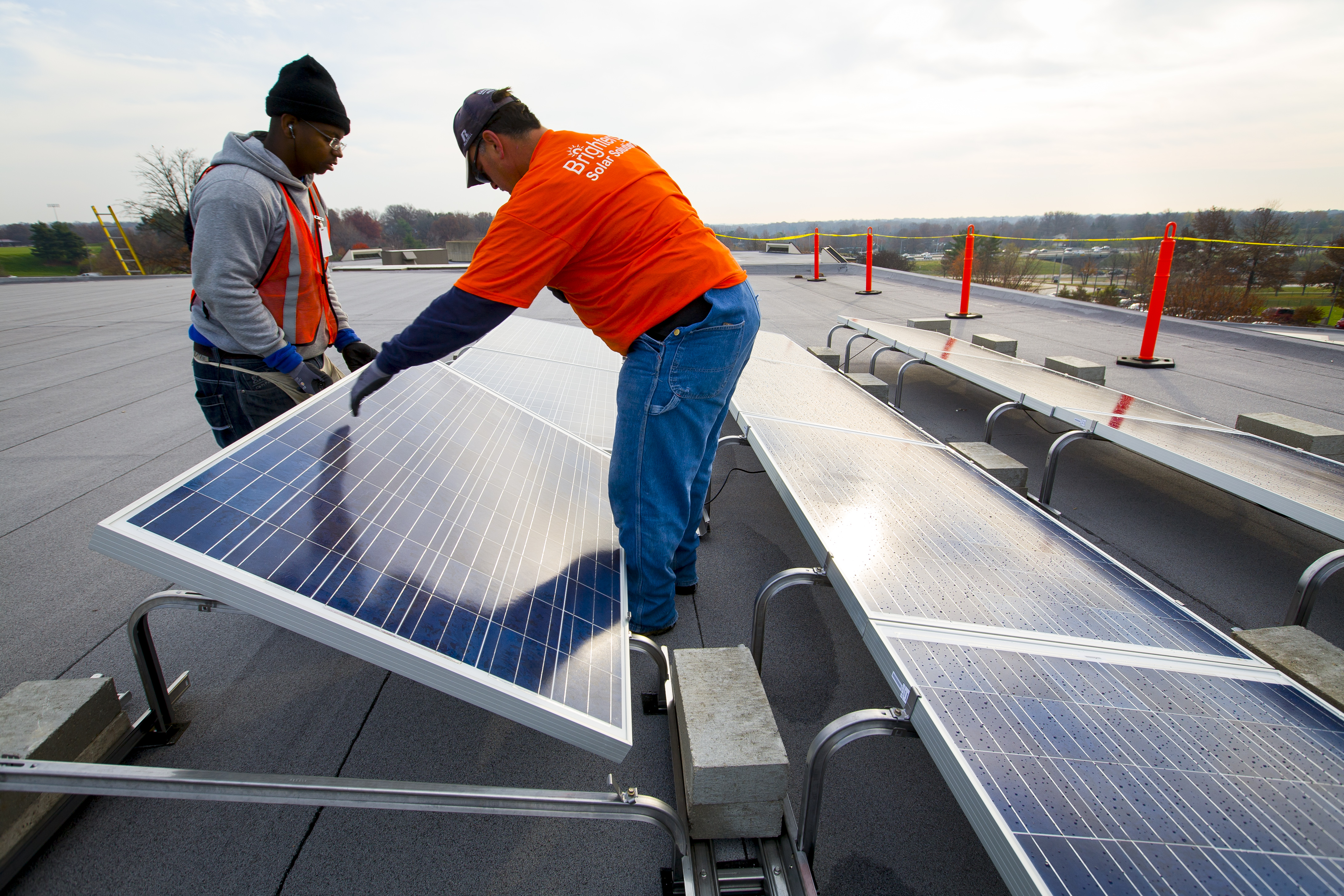 Solar power installers at work at the Parkway School District's Northeast Middle School.
©Photo by Jerry Naunheim Jr.[/caption]
The Solar Energy Industries Association (SEIA) released their 2012 Solar Insight Report for 2012 (A Year in Review) on Thursday March 14. All in all, 2012 was a record year for the solar industry, as clean, renewable energy becomes an increasingly competitive energy source for America. Here are the highlights:
Increased Installations and Market Share
Photovoltaic (PV) installations grew 76% over 2011, to total 3,313 Megawatts (MW) in 2012, with an estimated market value of $11.5 billion.
The commercial solar energy market installed over 1,040 MW in 2012, up 26% over 2011 totals.
The U.S. accounted for 11% of all global solar photovoltaic installations in 2012, it's highest market share in at least fifteen years.
Decline in Solar Costs
The average cost of a completed solar-panel system dropped by 27 percent over the past year.
The blended average sales price for solar photovoltaic modules for Q4 2012 was $0.68/Watt – a staggering 41% below the Q4 2011 price of $1.15/Watt.
The average price of solar has declined by 60 percent since the beginning of 2011.
While these price drops are beneficial for solar consumers, the sharp fall in prices, due in part by a global oversupply, has put a serious strain on solar manufacturers worldwide.
Economic Benefits of Clean Energy
As the solar industry grows, so does its impact on the economy. According to The Solar Foundation's Solar Jobs Census 2012, there are more than 119,000 solar workers in the U.S., a 13.2 percent increase over employment totals in 2011.
In 2012, solar electric installations were valued at $11.5 billion, compared to $8.6 billion and $6 billion in 2010.
There are 5,600 businesses operating at over 6.500 locations in every state.
Where Missouri Solar Stands
Missouri ranks #23 in the Top 25 States by 2012 annual installed PV capacity (up from #25 in 2011).
Want to learn more? Visit SEIA's website to download the Solar Insight Report Executive Summary and Fact Sheet.