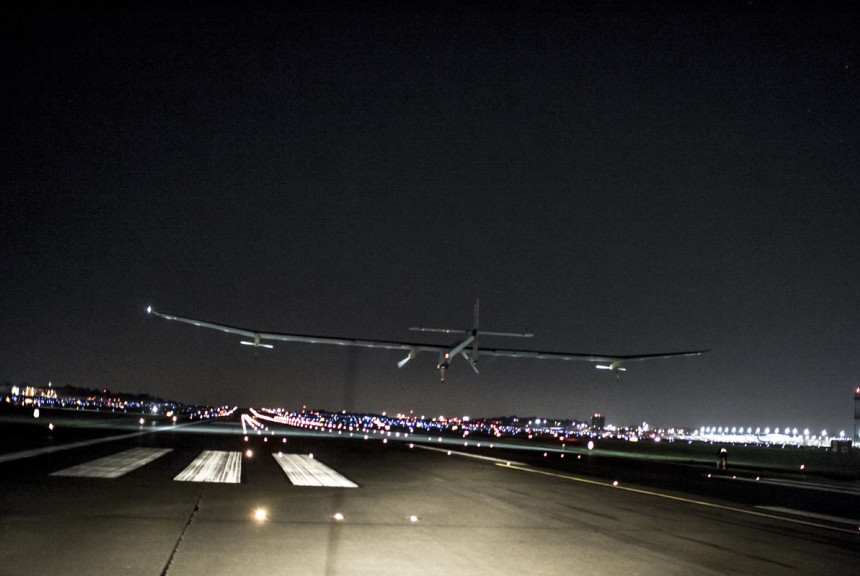 The Solar Impulse – the first solar plane to be able to fly night and day – descending onto the runway at Lambert – St. Louis. Photo credit: Solar Impulse.[/caption]
by Rachel Simmons
When last we left the saga of the solar plane, the Impulse had not yet landed at Lambert Field. Well, now that it has, a few lucky Brightergy Saint Louisans got the chance to see it, up-close, in-person, and in all its' glory (you can check out their photos in the slideshow below).
A few details about the Solar Impulse:
The Solar Impulse is piloted by two: Bertrand Piccard and Andre Borschberg. Piccard and Borschberg alternate legs of flight.
Its' wingspan is 208 ft. (72 m) and it weighs 5291 lbs (2,400 kg). That matches the wingspan of a 747, but the weight of a mid-sized car.
The plane is covered in 12,000 ultra-thin solar cells, connected by 300 strings. That's comparable to an approximately 50 kW rooftop solar-energy system.
Each string has a Maximum Power Point Tracker (MPPT) that tracks the sun.
The plane has 4 batteries to store solar energy.
It also has 4 motors (propellers).
"From the very start of the project, we understood that our primary goal was to save energy." Andre Borschberg
The Solar Impulse is a prototype airplane; nothing like it has been built before. As such, it required a significant amount of engineering testing before taking flight. Its entire flight cycle also revolves around energy savings and optimization, which is why it flies at an average speed of 25 knots – its design point for minimum energy consumption.
When the plane is on the runway and ready for take-off, its four batteries are typically charged to a minimum of 50% for pilot safety. Solar energy created when flying is either stored in its four batteries, or immediately converted into mechanical energy, powering the propellers.
The Impulse's energy is controlled by its Battery Management System (BMS), which channels the energy to either the batteries or the propellers, based on battery charge status. It also monitors battery temperature, assuring they are neither too hot nor too cold during flight.
Depending on the time of day, the plane is flying on:
Solely energy directly converted from the sun (daytime)
Some combination of solar energy and stored energy from the batteries (morning/evening)
Solar energy from battery storage (nighttime)
Theoretically, it can fly forever.
"Our airplane is not designed to carry passengers, but to carry a message." Bertrand Piccard
St. Louis, Missouri was chosen as a stop on Solar Impulse's five-leg Across America flight for both historic and symbolic reasons. Charles Lindbergh, flying the "Spirit of St. Louis" trans-atlantic for the first time in 1927, was carrying with him the city's pioneer spirit. Lambert International Airport is even named for St. Louis businessman Albert Bond Lambert, one of Lindbergh's sponsors.
Curious how the flight to St. Louis compares to Lindbergh's? Check it out:
Plane: Solar Impulse
Year: 2013
Flight: Dallas KDFW – St. Louis KSTL
Pilot: Bertrand Piccard, Initiator and Chairman
Take off time: June 3rd 04:06AM CDT
Landing time: June 4th 01:28AM CDT
Flight duration: 21 h 22 min
Average ground speed: 43 mph
Highest altitude reached: 2,400 ft (7,315 m)
Flight Distance: 646 miles (1040 km)
Plane: Spirit of St. Louis
Year: 1927
Flight: New York – Paris
Pilot: Charles Lindbergh
Take off time: May 20 07:52AM EST
Landing time: May 21 10:22PM CET
Flight duration: 33 h 30 min
Average ground speed: 90 mph
Highest altitude reached: 10,000 ft
Flight distance: 3,610 miles
During Piccard's flight from Dallas to St. Louis, Erick Lindbergh, Charles' grandson, called up to the cockpit. Lindbergh and Piccard discussed the importance of exploration and of inspiring younger generations to take risks, and "becomes pioneers of and for the future," the Solar Impulse website reported.
They also spoke about meeting up at the Smithsonion in Washington D.C. (Dulles International is the Impulse's next stop), where Erik's grandfather's plane and Piccard's balloon – the "Breitling Orbiter" – are both showcased.
Piccard comes from a family of explorers as well; his grandfather, a physicist, was friends with Albert Einstein and Marie Curie, and invented a special capsule that allowed him and a partner to be the first to enter the stratosphere in a hot air balloon. Piccard's father was an engineer who helped design the first submarine to travel underseas into the Earth's crust; he himself made the trip, along with an American naval officer.
And Bertrand Piccard became the first person to pilot an air balloon around the world non-stop. It was on that journey, in fact, when a propane shortage threatened to cut short his record-making trip, that he first dreamed of being able to fly day or night without fuel.
This, of course, led to the Solar Impulse. After Piccard and Borschberg travel across America, their next journey will be around the world.
Seeing the Solar Plane in Person
As impressive as the photos of the Solar Impulse are, it's pretty magnificent in person. Brightergy Business Development Director Cindy Bambini said:
"The plane was sleek and almost glider-like in look; I was amazed at the width of the wingspan…I kept thinking that this was the modern-day Wright Brothers. The big tent set up on the runway. They were selling hot dogs and sodas outside. Hundreds of people with their cameras getting their pictures taken in front of it. License plates and people from all over were there to see the new technological 'marvel.' The tickets were free, and sold out in a day or two. I guess we human beings are still fascinated by invention – and will come out in droves to see it. It felt very much like I was a part of history; that someday I could tell my grandchildren that I was there when the first solar plane flew into town – and how crazy it seemed at the time, though now we are flying them everywhere!"
Check out her photos in the slideshow below, and tell us: what do you think of the solar plane? Do you think that you'll be able to fly in one in your lifetime? Did you go see it? Share your experience.
[slideshow_deploy id='6572′]