Originally posted by
Kansas City Business Journal – by Alyson Raletz, Staff Writer
Incentives add juice to solar power flair | Kansas City Business Journal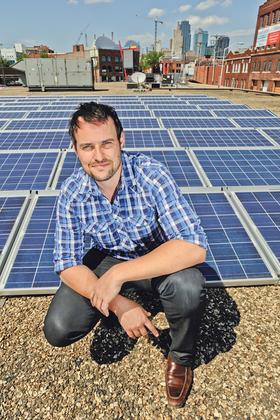 Solar energy projects for years will have a cool factor, but area companies have seen a boom in interest from customers willing to make the investment in recent months because of incentives and creative financing.
One of the most commonly touted incentives available in the area, Kansas City Power & Light Co.'s $2-a-watt rebate, knocked $98,000 off one of the area's largest solar projects, at Rockhurst High School.
Brightergy LLC recently installed more than 200 solar panels — enough to power several homes — at the school for a total of $300,000. The Rev. Terrence Baum, president of Rockhurst, said that it will take 12 years for the school to break even in utility savings but that the combination of the rebate and a gift from Brightergy CEO (and 2003 Rockhurst grad) Adam Blake made the long-coveted project a reality.
"It's not really affordable without the incentives," said developer Shaul Jolles, who recently tapped into multiple carrots to finance solar projects at the Jacobson Building and at his OfficePort KC building. Both are in Kansas City's Crossroads Arts District.
Other incentives include a 30 percent federal tax credit, a 30 percent U.S. Treasury grant and a federal bonus depreciation program — often leaving customers with only a fraction of the out-of-pocket costs.
"People are beginning to realize that all they're really risking is whether the sun is going to shine that day," Blake said.
Lenexa-based Brightergy operated as the The Energy Savings Store before Atlas Properties of Forth Worth, Texas, bought it in the fall. Now, with hefty financial backing, Brightergy has been pushing what it calls "innovative financing" typically offered only on the coasts.
After going through a handful of federal and state incentives, Brightergy puts up the money for the project, charging customers fixed monthly payments it claims are lower than the previous utility bills. Blake said this eliminates the biggest barrier to persuading customers to commit to projects — high upfront costs.
Blake said Brightergy's financing typically comes with interest rates ranging from 3 to 5 percent.
Josh Frankeberger, vice president of sales and operations for Independence-based Free Energy Corp., said that financing poses challenges for smaller outfits like his, which have to send customers to banks if they can't pay outright for the solar projects.
With all of the incentives, customers can get away with paying one-third of the project cost, Frankeberger said.
"But financing is one of the biggest hurdles for solar energy in my eyes," he said. "The real problem with financing has been an asset thing. The bank can't repossess solar panels."
Frankeberger said he hasn't been able to find outside financing programs that offer interest rates lower than 15 percent, which he's hesitant to recommend.
Still, he said he's received more interest in solar products in the past four months than ever before from business customers.
"How many solar panels will it take to get me off the grid?" is the most common question he hears.
Roland Maliwat, manager of sustainability at Kansas City Power & Light, said the number of customers tapping into the rebates already is reaching 2010's halfway mark. Roughly 30 customers participated in the program when it started in 2010. So far in 2011, 12 customers have applied for and received the rebates.
"It has definitely picked up," Maliwat said. He said that dozens of other projects have applied for the rebate but that they aren't completed.
Susan Brown, Brightergy's vice president of business development, said solar projects most benefit companies that own their buildings. Frankeberger said he's seeing many smaller professional groups, such as dentists and doctors, buy solar panels for their small offices as a way of demonstrating their pro-environment outlook.
Blake estimated that Brightergy customers have been granted or applied for roughly $1 million in rebates from KCP&L. Blake said he expects KCP&L to award roughly half of that in the next 45 days as some projects near completion.
"The numbers are increasing significantly each quarter as solar companies gain momentum," Blake said.