Dan Rockhill's Studio 804 purchased 44 solar panels from us to install on the building that students designed and built themselves. View of the rooftop panels at JCCC's Galileo Building.[/caption]
It's unusual for us to only sell solar panels. Energy's a complicated beast. We focus on making it simple. And as an integrated solar provider, we offer financing, installation, and maintenance – all under one roof. We also make sure the location we're installing the panels is in the right condition for panels. For example, if they are being installed on a roof then we will get a roofing company Winston Salem to repair any issues the roof has to make sure it's structurally sound before installation. Or, if the panels are being installed at ground level, we ensure there isn't anything near that can damage them.
But Studio 804 is not a typical client. They're not a typical architecture firm.
Led by J. L. Constant Distinguished Professor Dan Rockhill and run by senior students at the University of Kansas, Studio 804 designs and builds one building each year – no outsourcing involved. Everything from laying out the building design to the point of foundation to electrical wiring was completed by the students, giving them a different experience, says Studio 804 graduate Thomas Nguyen, "than with any other internship or firm."
"Most architects don't know how what they draw comes together on-site," says Nguyen. He's speaking with me in the lobby of his class's design, the Galileo Building – a classroom and meeting space for Johnson County Community College's Center for Sustainability. Later, as we talk, the quiet rush of water filters in, as the building's three living walls are watered – giving me the sense of being in an open arboretum, when in fact, the ceilings are 11 feet tall.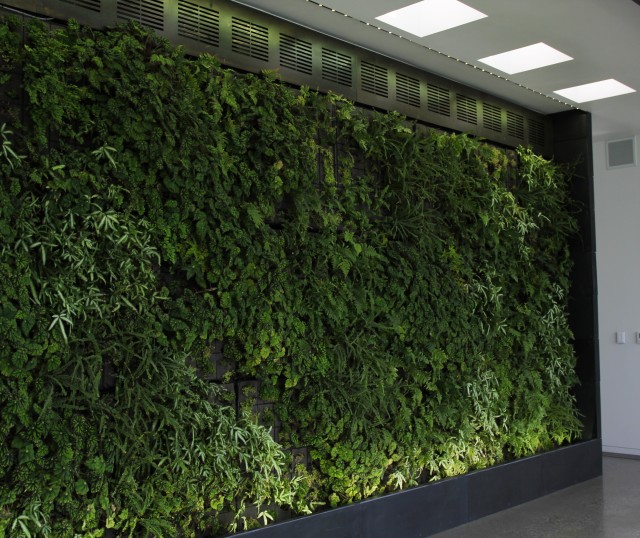 The green wall in the lobby of the JCCC's Galileo Building is framed by LED lighting and skylights, that allow for daylight and air flow.[/caption]
Nguyen and his classmates spent the fall semester working to integrate individual design ideas together into what they would then start construction on in the spring semester – two weeks before the spring semester started, actually.
Incorporating both LEED Platinum and passive haus design standards, the students created an open and energy efficient building that combines both active and passive systems.
And because the Galileo Building is built for education, it was very important to its architects that "people were able to see the systems," Nguyen explains. "A passive system," he says, "is anything that happens without needing power or assistance." Such as the building's concrete floor, aided by the "double-envelope louver" system.
As we sat in the lobby at midday, the room was well-lit with daylight – each room incorporates skylights for additional light, as well as cross-ventilation – but still cool, and comfortable. Nguyen explained that at that moment, the louvers were angled in such a way so that there's no direct sunlight inside, which helps with cooling.
In the winter, they're angled so that the sunlight streaming in heats up the concrete floors which radiate up at night, warming the interior. The outside concrete areas may benefit from a waterproof membrane for concrete fluid solution that can protect it from the outside elements.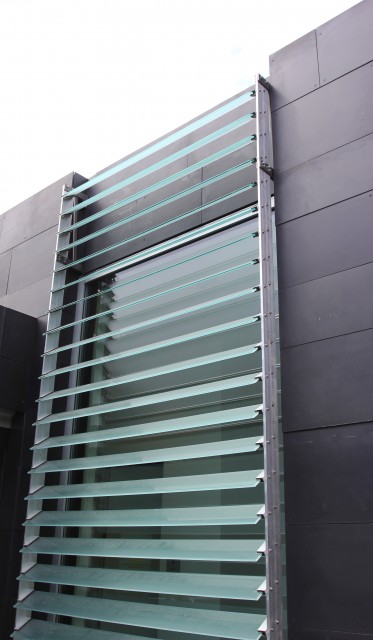 The louver system Studio 804 designed for the Galileo Building is a passive system that controls the amount of heat and light the building interior receives from solar energy.[/caption]
Up on top of the building, soaking up more direct sunlight, are the 44 solar photovoltaic (PV) panels – an active system. A green roof space borders the system. Combined with the building's wind turbine, these two active systems will offset an estimated 70% of its energy consumption.
With the advisement of an electrician, Nguyen himself was in charge of installing the panels. (Before this project), "I was interested in PV," Nguyen says, "but I didn't exactly know how they work – I never understood the balance, how they sit on a flat roof without penetrating." He pauses and smiles. "I also always thought it was all one system, all one string – I didn't know I'd be attaching each string."
He shows me the monitor meant as a display for JCCC students, faculty, and visitors to see how much energy the building is producing from it's solar and wind electric systems. At 12 p.m. in early September, the 44 solar PV panels are putting out about 5100 watts.
We get to talking about sustainability in design, which Nguyen defines as "designing responsible. I don't like the word green – we're not doing anything green, we're just doing something with sustainable systems." Meaning, Nyugen and his peers at Studio 804 created a building that runs efficiently, with minimal waste – and it's a thought process Nguyen says architecture programs around the country are turning their focus to.