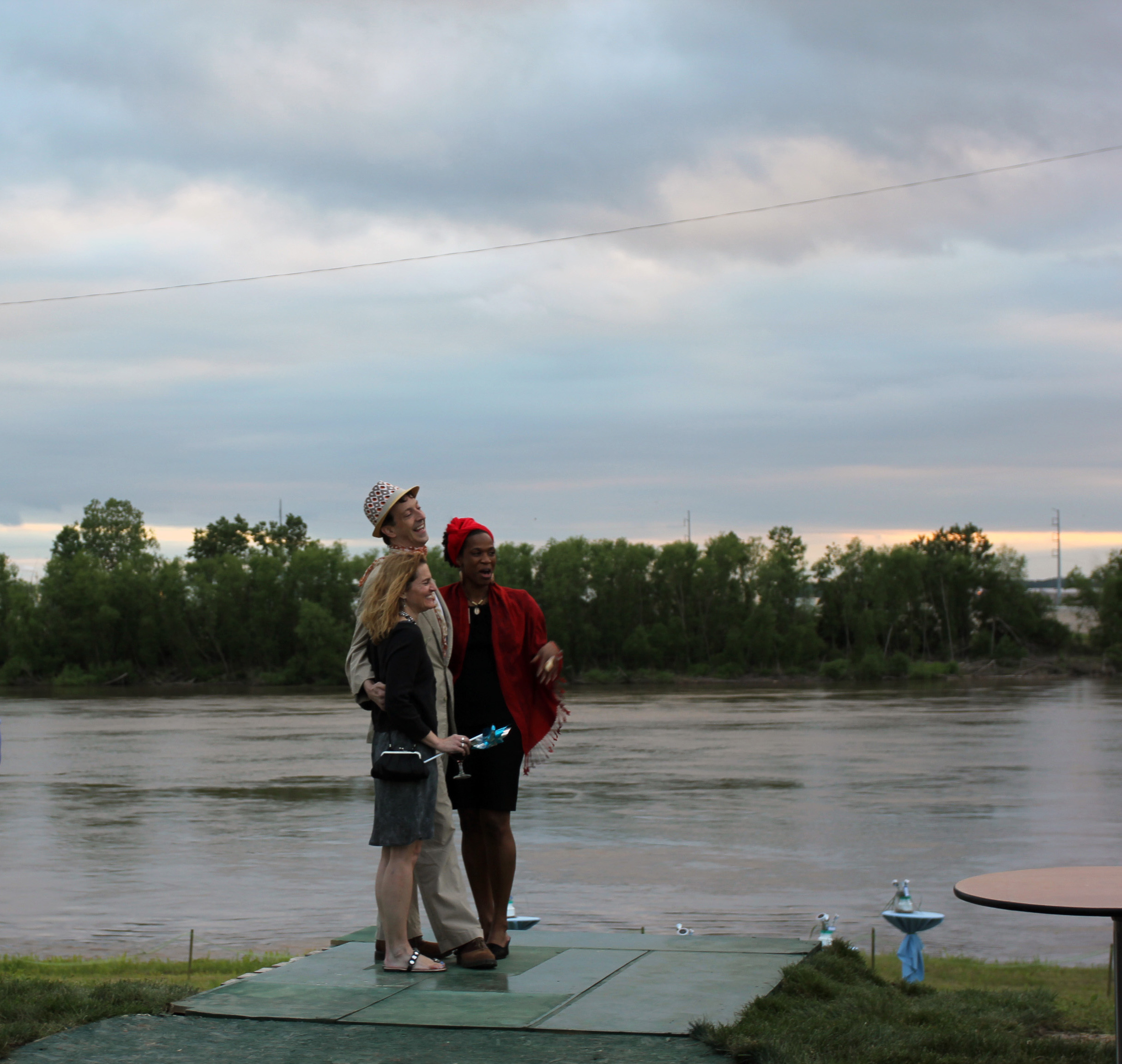 Guests at Bridging the Gap's Party at the Pumphouse get their photo taken in front of a Missouri River vista.[/caption]
It was in my first week of school at Rhodes College in Memphis, Tennessee that I realized – truly realized – for the first time that even in the developed United States, water is an issue. Used to drinking straight from the tap – heck, even the hose some hot summer afternoons – I was surprised by the prevalence of Brita filters, and the questions, can you drink the water from the sink? Is it okay? (Memphis, by the way, has some of the best drinking water in the U.S. as well).
Maybe that's a bit late in age to realize something like that, but the fact is, I – like many others – took our quality drinking water here in Kansas City a bit for granted. It just was – good and clean – and that was that. I never knew any different. But as I was mish-mashed into a college class filled with students from all over the South and the United States, I was beginning to understand that it's not always so.
So when Susan Brown, our VP of Public Affairs, received notice that she was going to be honored this year at Bridging the Gap's 20th Anniversary Party, and when she invited me to come cover the event, and I learned it was being hosted at the KCMO Pumphouse, I was intrigued.
Clean Drinking Water: A Conversation with Kansas City Water Services Department
Saturday June 1st arrived cool, with a threat of rain but as we arrived – bused over from parking at Kansas City's Downtown Airport – the sun was starting to peek its way through the clouds, bringing the promise of a sunset over the grand Missouri River. Grabbing a glass of the event's signature drink – Pumphouse Punch, a blue-tinged, water-themed drink made with organic vodka – we started to explore the grounds.
The Pumphouse is a beautiful old building, brick and resting at a hook of the river that offers equal views of the waterway and the city skyline.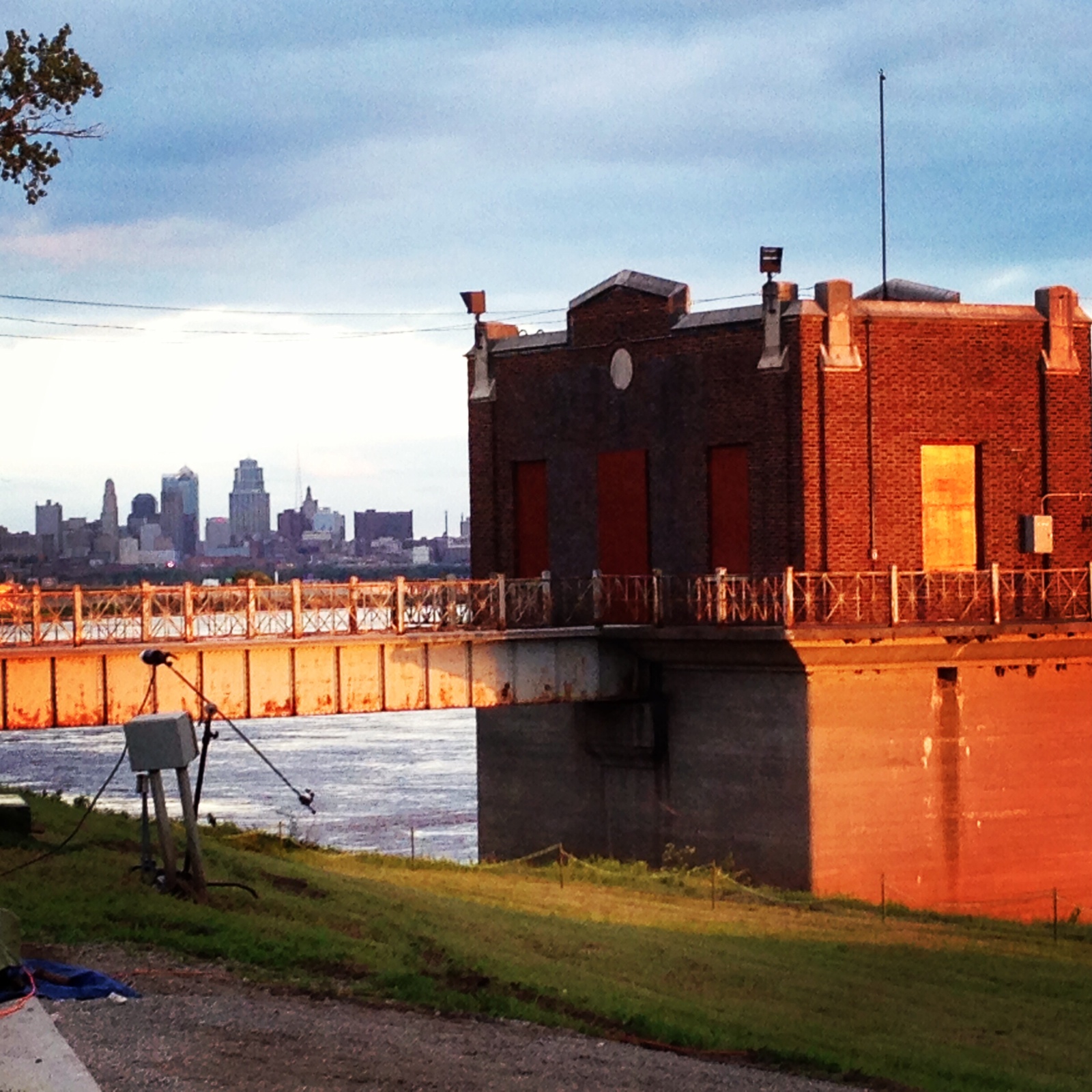 The view of Kansas City, Missouri's skyline and the river from the KCMO Water Services Department Pumphouse.[/caption]
And while I missed one of the tours, I did get the chance to speak to Keith, a dedicated KCMO Water Services employee who has built a demo of the City's past and current methods for water purification.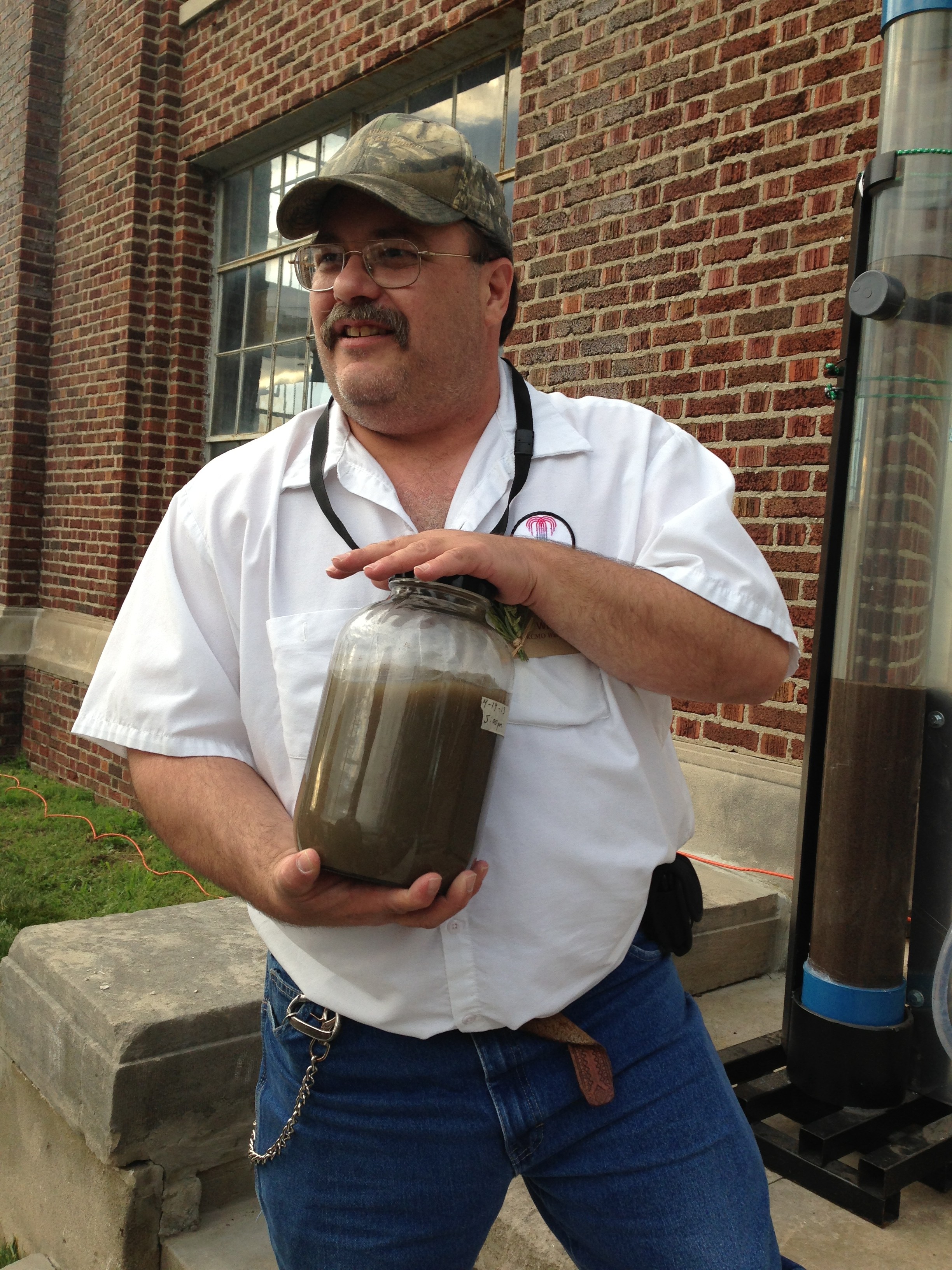 Keith, with the KCMO Water Services Department, shows us what the water we're drinking today looked like one month ago. With the assistance of commercial water products and treatments, the water we drink today is much cleaner and less harsh compared to only 4 weeks ago.
[/caption]
Did you know:
During Kansas City's earliest days, most residents drew their water from cisterns and wells. However, waterborne illness was a great risk and fire protection was lacking, so in 1874, the City began work on their first waterworks, which originally drew 5 million gallons of drinkable water per day from the Kaw (Kansas) River.
Today, KCMO Water Services draws our water from the Missouri River, producing hundreds of millions of gallons of drinking water each day.
They serve more than 170,000 customers via 2,800 miles of water mains that stretch through the city.
KC Water Service Department employees work around the clock to test our water for more than 300 contaminants (EPA standard of testing only requires testing for 181 contaminants)
The City of Kansas City, Missouri has been voted as having the highest quality water in the country twice in the past five years.
KC Water Services' filtering systems utilize sand, which polishes the water and cleans it of dirt, debris, and contaminants
KCMO Water Services boasts three solar-powered buildings
The Program: Getting the Party at the Pumphouse Started
Somehow, between being entertained by the delighful "Antique Pop" stylings of musical duo Victor & Penny, and enjoying the showcase of local food and beverages catered by Feasts of Fancy, there was time for the main event: the speeches. Guests were honored with words from Bob Berkebile, legendary architect and principal of BNIM, Ralph Reid, VP of Corporate Social Responsibility at Sprint, Bill Downey, President and CEO of Kansas City Power & Light, Cindy Circo, Mayor Pro Tem, Kristin Riott, Executive Director of Bridging the Gap, and finally, Bridging the Gap founder Bob Mann.
It was a program filled with powerful words, but perhaps what stuck in my mind the most were the comments from Bob Mann on the reason for choosing the celebration's location at the Pumphouse, on the Missouri River:
"When we talk about water, it comes home. We can feel the connections, we can see the connections."
Never has that been more true as the very river that provides us with the basic sustenance of life is also flooding from the recent regular downpours, coming on after a long-term and serious drought.
We are of water and water connects us all.
A Solar Power Perspective on Water
We even feel the connection to water in solar energy, and here at Brightergy.
Solar power, for instance, uses a minimal amount of water during energy production; what is used is used for cleaning solar panels, which, with the exception of times of drought, can be accomplished with natural rainfall.
In contrast, a coal power plant sends toxins such as mercury and cadmium directly into the air, polluting the water and land around the plant.
And while our water here in Kansas City is of exceptional quality, access to clean water is still a major global issue, and one that solar power can make an impact on.
Using the principle of electrolysis – the chemical process by which water molecules are split or decomposed into their parts (two hydrogen atoms and one oxygen atom, per molecule) – and electrodes suspended in water, attached to gas collection systems, companies are utilizing solar energy to not only purify water for drinking, but store electricity and – bonus – medical-grade oxygen. The Hydra – a "mobile power generator and water purifier" – is just one such product. A student project from Lynn University in Florida, recently selected to compete in a national EPA competition, is another example of the powerful potential for solar-powered clean water.
And one of our own, Commercial Solar Developer John B. Conger, is traveling to Uganda, to work towards implementing solar-powered clean water filters there.
With 1 in 8 people around the world without access to clean drinking water, there's remarkable potential for positive change.
All in all, Saturday's event was a celebration of progress that has been made, and of that to come, providing unique access to a fascinating process that – similar to energy – makes life in our city possible, day-in, day-out. Many thanks to Bridging the Gap for their hard work and dedication to environmental education and action.
Interested in more photos from Saturday's event? Check out our full photo album on Facebook.