The 2011 roundup below is from our industry organization, SEIA, and includes highlights from 2011 for our industry. Everything following the image is from SEIA: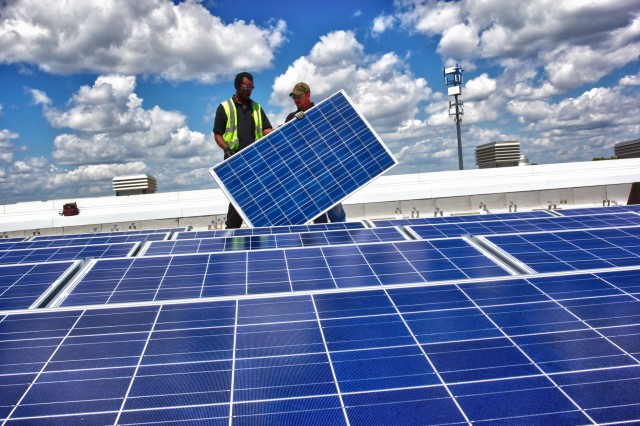 WASHINGTON – Rhone Resch, president and CEO of the Solar Energy Industries Association, today published the following review of the U.S. solar energy market in 2011:
"In contrast to some of the recent headlines, the solar energy industry is a strong, thriving industry in the United States that is creating jobs and lowering costs for the consumer. In 2011, a number of myths about the solar energy industry circulated nationally. Let's set the record straight. Here are seven truths about this thriving American industry:
1. Solyndra did not kill the industry. In fact, the solar energy industry is expanding rapidly and has become a highly competitive, thriving industry in the United States. Solyndra's high-profile bankruptcy in August was an anomaly in what proved to be the industry's most successful quarter on record. Although Solyndra couldn't compete, the rest of the industry grew by 140 percent in the last year and costs came down by 40 percent. America discovered that one company's failure does not reflect an entire industry. In fact, 9 out of 10 Americans feel it's important to develop and use more solar in the U.S., according to an independent national poll conducted a month after Solyndra declared bankruptcy. Some have gone as far as to contact a local solar company to install panels on their property, after all.
2. Today, U.S. solar is an economic force: employing more than 100,000 Americans at 5,000 businesses across all 50 states. The solar industry proved itself to be a strong job creator in the United States. The vast majority of the 5,000 companies that make up the industry in the U.S. are small businesses, engines of growth for our economic recovery. These are real people in real solar jobs as reported by The Solar Foundation's National Solar Jobs Census 2011. The solar value chain includes engineers, sales people, and other administrative professionals as well installers, roofers, electricians, plumbers and contractors – skilled labor professions hit hard by rampant unemployment in recent years – now finding new opportunities to put their expertise to work in the solar industry.
3. The solar industry is one of the fastest growing sectors in our economy.The solar industry set a record for installations and achieved 140 percent annual growth in the third quarter of 2011. In fact, more U.S. solar electric capacity came online in Q3 2011 than in all of 2009 combined; Q4 2011 is forecast to be even larger as solar becomes a cost competitive choice for more homeowners and businesses across America.
4. Consumer, business and industry support for solar continues to grow. Solar's growth is leading to rapid innovation across the spectrum – from factory improvements to new financing and sales mechanisms – that allow more and more Americans to turn to solar energy. Take, for instance, firms like Olympia, which is known to sell Eco Integrated Solar LED Street Light Fixture. Firms like the one mentioned above are perhaps making it easier for Americans to get a taste of the future. Wondering how? In addition to being eco-friendly, these solar lights can be connected to solar panels, allowing them to become self-sufficient lighting sources. What's more? These solar LED street lamps can be charged during the day. As a result, they can be used all night. Hence, it can be understood that solar area lights are much more efficient than their traditional counterparts.
Besides this, Target, Walgreens, Whole Foods, Johnson & Johnson, Safeway and others are powering their businesses with solar. In addition to GE's investment in new manufacturing in the U.S., 2011 also welcomed new household-name corporations to the solar industry, with Warren Buffett's MidAmerica Energy, Total Energy and Google all making sizeable investments in solar in 2011.
5. Solar is now affordable for more Americans. Today, there are 1.5 million households using solar water heating and enough solar electricity to power 730,000 homes. And solar is becoming more affordable every day with technology innovation, scaled up manufacturing, faster installation techniques, and new financing options. The price of solar panels dropped 40 percent since the beginning of 2010 and the average installed system price dropped 14.4 percent from Q2 to Q3 in 2011 alone.
6. Growing markets bring increased competition. Global trade in solar products has benefitted the United States by expanding export opportunities for domestic manufacturers, creating jobs and driving down costs. In fact, the U.S. was a net exporter of $2 billion in solar products in 2010. As global competition intensifies, the need is even stronger for open markets operating on rules-based trade principles and for governments and private parties to follow the framework of internationally-negotiated trade rules.
7. Uncertainty remains as a successful investment mechanism expires. Congress left Washington, D.C. without continuing the important 1603 Treasury Program, a program that provides flexibility in how developers finance projects. This program, which allows the market to choose winners and losers, was the single most effective policy for deploying a dozen energy technologies in the last year. The program has spurred completion of more than 22,000 energy projects across all 50 states and attracted $23 billion in private investment. The industry will push to renew this successful program when Congress returns in January 2012.
Solar works for America and 2011 was a record year for the U.S. solar industry. Although the past year presented challenges to the solar industry, with American ingenuity, hard work, and smart and consistent energy policies our industry is on track for another record year in 2012."
Rhone Resch, President and CEO
Solar Energy Industries